---
MODERN DIESELS
For the purposes of this Web Site, I classify "Modern Diesels" as 'second generation' or newer. Dire warnings aside, the six-wheeled truck diesels and the 18-inch radius track on the BRVRR's sidings and reverse loop seem to get along fine. I have had no problems. I find myself concentrating on the mid-1950s and the transition era more and more lately, so the 'modern diesels' are getting less and less running time, an unforeseen problem. I'll soon have to make up my mind about the 'two era' scheme of operations. Pulling it off is getting to be more complex than I thought it would be.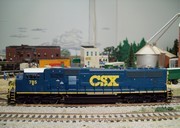 Zachary has been looking for a high powered CSX locomotive for quite some time. Number 785 seems to fit the bill quite nicely. It is an Athearn Genesis SD-70-MAC locomotive he purchased at a train show in Vermilion, Ohio a few weeks ago. I installed a Digitrax DH126 decoder which gives him motor and light control. A new 6-function decoder is on order so he can take advantage of the model's many features. So far he his quite pleased with his purchas. We will know more once the new decoder is installed.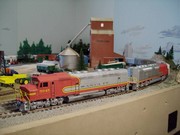 After I installed a Soundtraxx DSD-101-LC decoder in my Santa Fe FP-45 #5941 a few months ago, I was so pleased with it that I began looking for another FP-45 to pair it with. Unfortunately, after several train shows with no luck finding one in Santa Fe Warbonnet livery, I decided to make my own. The thumbnail at left shows my new SF FP-45 Santa Fe #5945 on the lead as it rounds the curve near the Farmers Union grain elevator on the West End of the BRVRR layout. It runs and sounds as good as its brother! I am quite pleased with the results.There is description of how I built #5945 from an Athearn BB kit in Milwaukee Road liver on the How'd You Do That page.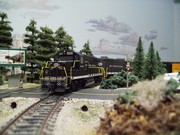 I purchased this Proto 2000 GP-20, NYC #6109, at the Toledo Train Show in 2009 for a bargain price. After attaching a few extra details and painting the handrails and grabs, I installed a Soundtraxx DSD-101LC decoder and a small oval speaker. I set up the speed range to my liking and matched it to its running mate, a Mantua GG-20, that has been on the layout for some time, with DecoderPro. It runs smoothly. The sound is much better than I expected with such a small speaker. A welcome addition to the BRVRR power roster. You can see a larger photo of the loco by clicking on the thumbnail at left.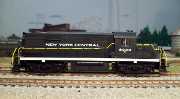 I bought this NYC ALCO RS-32 loco #8038 in December of 2008. It is an Atlas Trainman Model. I installed Soundtraxx DSD-101LC decoder and a mini-oval speaker. Then I applied a Cal-Scale Detail Kit No. 190-527. Once everything was in place, I painted the grabs, release levers and the MU hoses by hand. I programmed it with DecoderPro and my home computer to match the performance of its running mate, NYC RS-32 #2030. This is my third Atlas locomotive and so far, I am very pleased with all of them.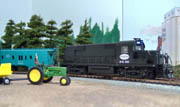 This addition to the BRVRR locomotive roster, NYC #2030, is an Atlas ALCO RS-32 Trainman model. I purchased it at my favorite local hobby shop in November of 2008. I installed a Digitrax DH163 decoder I had on hand. This is the second Atlas locomotive model on the layout. It performs beautifully at all speeds. Eventually, it will be part of the power for my NYC "meat train". These priority trains were habitually powered with ALCO locomotives on the Central.
At left is my Atlas GP-40 NYC #3083 purchased in early February of 2008. I consider it to be a 'late Christmas present' to myself. This is my first Atlas locomotive and I am quite impressed with it to date. The paint and detailing are outstanding. After running the locomotive for some weeks with the original Atlas/Lenz decoder, I decided the locomotive deserved a voice of its own. I installed a Soundtraxx DSD-101-LC decoder and a 3/4-inch speaker. Just one small quibble with the detailing on the locomotive, the number boards are black on white backgrounds. All of the prototype photos I have indicate that the GP-40s had white numbers on black backgrounds. A minor point I can live with, for sure.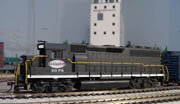 After buying the Atlas GP-40 #3083 noted above, I decided I needed another GP-40 to run with it. I had an Athearn BB GP-40, new in the box, but it was in CSX livery. Out came the paint remover and an order went off to Atlas for plastic handrails and a few other goodies to dress up my new creation. The result of my efforts, after about 2 weeks of spare time work and the arrival of the parts from Atlas are shown in the thumbnail at left. I used light bars/diffusers from Atlas and 3mm LEDs for the lighting. The handrails and air-line hoses are also from Atlas. The MU hoses came from Kato. I printed the loco numbers, for the number boards on thin white paper and fixed them on the number boards with latex wallpaper adhesive. I installed a Digitrax DH163 decoder I had on hand for motor and light control. While NYC GP-40 #3075 isn't as 'finished' looking as its Atlas mate, I am please with the results of the project. Next is matching the two decoders with DecoderPro so they will run in tandem.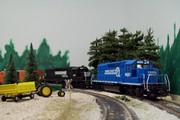 CONRAIL GP-40 #6520 is an Athearn BB kit locomotive. I installed a Train Control Systems T1 decoder for motor and light control. I added MU and air hoses from Details West. The locomotive is a smooth runner and very colorful. It is a favorite of my younger grandson. One day I will have to modify the headlight and number board lighting system to put out the 'bonfire in the cab.One of the BRVRR's "Modern" diesels, #6520 doesn't see much action unless my youngest grandson spots it. He has an occasional fixation on this loco, I think its the bright blue color. Whatever the reason this CONRAIL loco occasionall heads up a borrowed streamlined or heavyweight passenger train consist.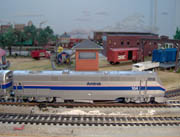 A new addition to the BRVRR modern diesel locomotive roster is this Athearn BB AMD 103 in Amtrak Phase IV livery. I purchased it at a train show in late 2007 as a companion to the locomotive below. It is just a dummy, but the price was right. The road number indicates the loco operates on the Northeast Corridor so a host of changes are due to make it a 'cross country' locomotive. I still have to apply the factory supplied details, but they will have to wait until color changes and new decals are applied.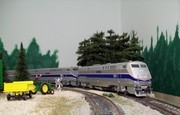 A recent addition to the BRVRR modern diesel locomotive roster is this Athearn BB AMD 103, AMTRAK #120 in Phase IV livery. We occasionally run modern equipment on the BRVRR. My grandson has a fascination with AMTRAK trains and their locomotives. I purchased this loco to satisfy his curiosity. I still have some detailing to do, namely windshield wipers, more MU hoses etc. I installed a white LED for the headlights. The road number was applied with Woodland Scenics dry transfer decals. I installed a Digitrax DH163 decoder for motor and lighting control. Ditch-lights and back-up lights may be in the future for this loco someday. This Athearn model is detailed beyond what I have come to expect for a BB kit. So far, I am quite happy with this modern locomotive.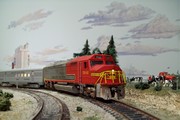 This Santa Fe FP-45, #5941, was the first twelve-wheeled diesel I purchased for the Black River Valley Railroad. I bought it because my grandson loves the Warbonnet livery and wanted a Santa Fe engine to run on the layout. It is an Athearn BB kit, still with the original drive. I applied the usual Details West MU and air hoses. I originally installed a Digitrax DH163 decoder and told myself I would install a sound decoder at a later date. During the winter of 2009-10 I finally kept my promise to myself. I installed a Soundtraxx DSD-101LC decoder and a 1-inch speaker and enclosure. The new decoder really brought this loco to life and lead to the construction/assembly of a running mate, #5945, which is featured on the the How'd You Do That page.
The Santa Fe GP-30 at right is a Life-Like Proto 2000 that was priced too low to pass up. It runs very quietly and pulls quite well. Although basically stock, I did install a Digitrax DH163LO drop-in decoder. The stock details, are quite good. Until the advent of the NYC GP-20, this little engine did most of the switching on the inner main of the BRVRR.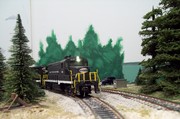 This little Mantua GP-20 was a welcome addition to my NYC roster. I found it in a local hobby shop and just had to have it. Although it has just one fly wheel, it runs smoothly and very quietly. I installed a Digitrax DH-123 decoder. Because I could not find the road number the manufacturer painted on the model in any of the books I have access too, I renumbered it to 6111, based on a photograph on the Fallen Flags Web Site. Because the engine has truck mounted couplers there are no MU or air hoses. This past March (2014) I replaced the incandescent bulb with a 3 mm LED and a light sheild which effectively put out the 'bonfire in the cab'. It is shown here on its test run with the new headlight configuration. The operation was a success I think.