---
ROLLING STOCK
I didn't know for sure what to put on this page. After all, a box car is a box car, and I do not want to burn up bandwidth just to fill the pages. Plans are to build and decorate a few cars with the house colors and logo sometime in the future. The rolling stock posted here are cars I am particularly proud of or those with special meaning.
This little Pennsylvania N-5 Caboose is a Bowser kit that went together without a hitch. I put a few pieces of .010-inch clear styrene on the interior of the window openings to simulate glass and installed Kadee couplers. I added Intermountain metal wheels for more weight and better tracking. Maybe interior lighting and a couple of illuminated marker lights will be next. I thought #477610 deserved a place here on my Rolling Stock page because it is somewhat unusual.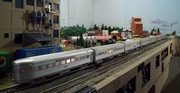 After I completed my Santa Fe FP-45s I decided I needed a nice passenger consist to go with them. The El Capitan or the Chief seemed like a good idea. Once reality sank in I began shopping for some Athearn passenger cars in Santa Fe livery. After several train shows I had my eight car consist. A little remodeling and tuning as per that used on my NYC consist and I was in business (See Below).The cars all track well and make quite an impressive train on the relatively small BRVRR. Plans are to finish some of the cars' interiors, and put in a few people to give the train life. The dome cars are the most likely candidates as they are the most visible.
Because I've always wanted to do it, I fabricated and installed interior lighting on both cabooses. I used a simple wound brass wire pick-up system for #24524 and a modified Kadee coupler-spring pick-up for #24534. Both of these cabooses (cabeese) were constructed from Athearn BB kits. I modified them a little by applying .005-inch clear styrene for window glazing and installing metal wheels. I then weathered them with washes of acrylic paint and Bragdon Enterprises weathering powders. I think I got a little carried away with #24524. Then I lightly touched the grab irons, hand rails and steps with yellow paint to add some highlights. For a larger image push the thumbnail of your choice. There is a more in depth decription and a few more photos of the process on theHow'd You Do That Page.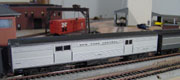 I needed a few streamlined passenger cars for the consists for my ALCO PAs and EMD E8/E7 locomotives, but New York Central rolling stock is difficult to find here in Northeast Ohio. In the summer of 2006 I decided to try and make my own from some of the kits I already had on hand. NYC Baggage Car #5876 is the result. I started with an Athearn SL-Baggage Car in Burlington livery. I first cut off the skirts and cut back the center well of the chassis with my rotary tool. Then I sanded off the lettering, numbers and car name. I painted the chassis flat black, the car top black and the remainder of the car body shell silver. After the paint had dried I applied Walthers' NYC Passenger Car Decals. I dressed up the car chassis with a few parts from Train Station Products Passenger Car Detail Set #460. I fabricated electrical pick-ups from brass wire and connected them to the weights on the inside of the chassis and installed a single bulb for basic lighting. Since the ladders and steps had been removed with the skirting, I fabricated new ones from .012-inch brass wire, soldered them together and glued them into place with "super-glue." When everything was dry, I touched the molded in grab-irons and handrails and painted the new ladders with black paint. A final coat of Testor's Dull Cote sealed everything and gave me the dull finish I wanted. With the installation of Kadee #5 couplers, my car was complete. While certainly not prototypical, my modified streamlined car meets my needs. Will there be more? It's hard to tell. I will continue to look for NYC streamlined passenger cars for the BRVRR, but I know now that I can make acceptable versions for myself.
NOTE: In 2006 I decided to follow through with the idea of making my own NYC passenger consist from my existing Athearn BB cars. The methodology is here on theHow'd You Do That Page, in a short photo essay. Just click on the thumbnail of the observation car.
This heavyweight Railway Post Office #5015 is one of several, second or third-hand cars I purchased at a train show a long time ago. I have it on good authority that it is an Athearn BB kit, probably from the 1970s. I added the road name and car number decals from Microscale sheet #87-933. I lighted it using soft brass wire for pickups on two of the axles on each truck. I used white paper to diffuse the light from the single bulb a little. This RPO is a close approximation of a car I saw on a NYC website and is part of the consist for my NYC Niagara and Hudson locomotives. It tracks well and there is very little 'light flicker' when running in the dark. One day I will extend the electrical pick-up to the third axle on each truck, which should all but eliminate the 'flicker.'

The photo at right is my NYC/NKP Coal-train passing Grafton tower on the BRVRR. The seven Nickel Plate Road coal hoppers in the foreground, I purchased for $4.50 each, at a train show late in August 2005. Each car was fully assembled and had Kadee #5 couplers installed. I weighted them in accordance with NMRA standards and made the loads for them from 1/4-inch black foam board and Woodland Scenics coal white glued to the foam board. The new coal loads hide the lead weights in the cars and lend some realism to the layout. Simple process, big pay-off!

This little Walthers, 4-window NYC Caboose came assembled, sort of. The major components were together. The purchaser merely had to add the 'details,' grab-irons and handrails. What a nightmare! Took me several hours to get the little tiny loops and hand rails positioned on top of the cupola properly. Then I had to cheat a little and make my own grab-irons out of soft brass/copper wire that I could thread through the loops. I touched the grabs with a little paint to blend them in and fini. Finally! If I can ever figure out how to get inside, I'll paint the interior and install lighting. I would like to install lighted lanterns on the back platform too. We'll see. In any case this little caboose, though not 'unique' has a lot of blood sweat and tears in it.

I bought this pair of Walthers ready-to-run NYC 50' Box Cars # 78756 and #78773 at a train show in Berea a couple of weeks ago because you never have enough box cars and NYC rolling stock is hard to find here in Northern Ohio. The detail isn't up to many modelers standards, but they meet my needs. These are the first cars of any kind, by any maker, that I have ever been able to take out of the box and place on the layout without having to tweak the couplers, wheels, weight or trucks. They met the standards of my NMRA gauge right out of the box. Even the weight was within 1/4 ounce of recommended standards on my letter scale. They seem to track perfectly and run smoothly. I haven't even changed the couplers to Kadee's yet. Why mess with a good thing! I like the color, too! They are featured here on my Rolling Stock page because I though Walthers deserved a pat on the back for a fine product.