---
STEAM ENGINES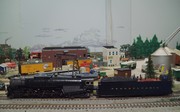 This Pennsylvania RR J1A 2-10-4 is a Broadway Limited Imports Paragon2 locomotive. It was our 2014 Christmas gift to our eldest grandson. It is quite an impressive locomotive. Large, heavy and a very good puller. The sounds system and its many options are a hit with the grandson. With 20 freight cars and a caboose it navigates the outer main line on the BRVRR without a problem. The efficient smoke generator is an added plus for the grandson who loves smoking steamers, though it fills my relatively small train room with pine scented fumes rather quickly.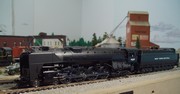 At left is the thumbnail photo of New York Central Niagara #6008. It is a Broadway Limited Imports Paragon2 locomotive and my 2013 Christmas present from my wife. The 4-8-4 Niagara is my personal favorite steam locomotive and is the premier steam motive power on the layout. The loco's Paragon2 sound system is really outstanding. After adjusting the sound to a comfortable level in my small train room, it was a joy to behold. It hauls my 16-car mixed consist of heavyweight and streamlined cars without a problem and the usual 8-car consist of heavyweights with ease.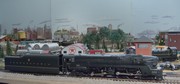 Pennsylvania Railroad T1 #5501 shown here posed in front of Barron's Oil Company, is a Broadway Limited Imports Paragon2 locomotive. It was Zachary's Christmas present from us this year (2013). The locomotive is a stellar performer on the 22-1/2 inch radius outer mainline, but binds a bit on the 20-inch radius inner mainline. The locomotive's long rigid wheelbase is the reason for the binding as our articulated Challenger has no problems with the inner main. The Paragon2 sound system is great! When properly adjusted for volume the sounds are crisp and clear. The 'chuff rate' is synchronized with the drivers and does a good job of simulating the two steam engines the T1 really is. Number 5501 hauls our eight car Pennsylvania RR consist around the layout without a whimper. I'm sure it could easily handle twice as many cars since it is equipped with traction tires. One of the major appeals of the engine, to Zachary at least, is the very efficient smoke generator it is equipped with. A few of drops of Mega-Steam smoke fluid and it fills the train room with pine-scented exhaust.
This Proto 2000 Heritage 2-8-4 Berkshire in Pere Marquette livery was Zachary's 2007 Christmas present from his grandmother and I. PM #1235 is equipped with Quantum/BLI sound which is what he specifically asked for. The loco is very finely detailed and runs very smoothly. The sound is truly outstanding. The loco will pull a mixed consist of 7-8 heavyweight and streamlined passenger cars on the flat BRVRR with ease and it negotiates the snap switches and tight curves in the reverse loop without problems as well. So far, Zachary and I, are pleased with this big steamer.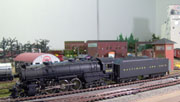 This IHC Baltimore & Ohio Hudson #5047 was purchased by my grandson Zachary, at the Berea Train Show last fall (2007). He simply cannot resist a steam engine. He used his own birthday money for the purchase. Frankly, I am surprised at how smooth and quiet the locomotive operates on the BRVRR. The detailing isn't as fine as some of our other steamers, but it is good enough for Zachary. This loco will likely get a decoder installation in the near future. Maybe even a sound decoder.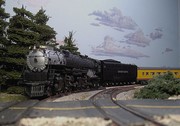 This Athearn, Union Pacific Challenger #3985 was our 2006 Christmas gift to our grandson Zachary. He wanted the 'famous engine' from the many railroading videos he watches. I purchased the locomotive in November 2006, but #3985 was not available. To please him, I renumbered the loco to U.P. #3985 with decals from Microscale. This big locomotive passes through the 'snap switches' and navigates the 18-inch radius curves in the reversing loop without problems. Zachary is most pleased with it. NOTE: After more than two years of faithful service the MRC decoder in the Challenger just flat failed. No amount of tweaking brought it back to life. As a result, I replaced it with a Soundtraxx DSD100-LC decoder. It took a little tinkering to get things right, but the Challenger is again up and running.
The Broadway Limited Imports, New York Central Hudson #5335 at right with a mixed consist of heavyweight and streamlined cars was my 2005 Christmas Present from my wife! What a great little engine! I had heard stories about its poor pulling characteristics, but it pulls my consist of 12-cars on the flat BRVRR without a problem. I doubt if I'll ever need to use the traction axle that came with it. This is my second BLI steamer and it is just as impressive as the first so far.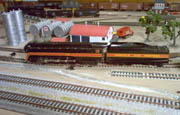 Norfolk & Western #611, a Bachmann Spectrum locomotive, was my grandson's Christmas (2005) present from Santa. Before delivery I installed a Soundtraxx DSD-100LC Steam sound decoder and a 1.1 inch diameter speaker and enclosure from Tony's Train Exchange. Other than programming the road number, whistle and start voltage, I haven't had a chance to tweak the decoder yet. Zachary is well pleased with it as it is!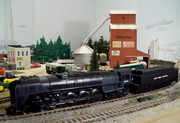 New York Central "Niagara" #6015 is a Bachmann locomotive. I renumbered it from #6000 with numbers from Micro Scale Decals on the cab and the back of the tender. I chose the number and modeled the engine from a prototype photograph I found on the Fallen Flags Web Site. I installed a MRC 1627 steam sound decoder and speaker in the tender in place of the Digitrax DH163 I originally installed. Although not prototypical, the sound produced by the MRC decoder makes this big engine even more impressive when it is in motion. The conductor's shout of "All.... a board" on Function 6, is a real hit with my grandson. This engine pulls a ton! It can pull 8-10 heavy weight cars and 4-6 express reefers easily. It navigates the Black River Valley Railroad's, 18-inch radius curves without problems, but is more comfortable on the 22 1/2-inch radius outer main line. There is just something about a steam engine!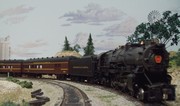 This Bachmann Spectrum, 4-6-2, Pennsylvania RR, K-4, #1361 was present for my grandson's ninth birthday. He loves steam engines, any kind of steam engine. As we browsed the Strasburg Train Shop on our visit to Strasburg, Pennsylvania, he spotted this loco and just had to have it. This was the first Spectrum locomotive on our roster and I am duly impressed, so far. I recently replaced the TCS T1 decoder with a Soundtraxx DSD-100LC steam sound decoder. The loco performs very well with its new decoder. Zachary loves it!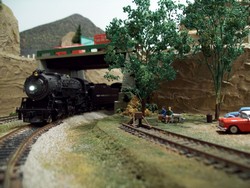 This Broadway Limited Imports, NYC/P&LE H-9 2-8-2, #9519 was my 2004 Christmas present from my wife. I really like this little engine. First, it sounds awesome! Secondly, it runs smoothly and quietly at all speeds. It can crawl by itself or with 10-12 freight cars. After 8 years of nearly continuous operation on the railroad this little engine has given me no problems whatever.

This colorful Bachmann 4-8-4 was a Christmas 2004 present for my grandson. He was so disappointed that it didn't have sound that I installed the guts from an IHC steam sound car in the tender to give it a voice. The hardest part of the conversion was fabricating the rotary contact for the chuff rate 'switch' onto the rear-most axle of the tender's after truck. The chuff timed by the rotary contacts on the rear-most axle of the tender, is really nothing but white noise. I the spring of 2012 I removed the sound car components and installed a Soundtraxx DSD-101LC steam sound decoder and 1-inch speaker in the tender. The sound, while not perfect, is a vast improvement over the white noise of the 'steam sound car.'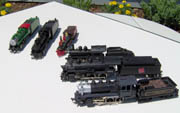 As you may have gathered, my grandson is a steam engine 'freak'. The Black River Valley Railroad is home to a 'flock' of DC Steam Engines. The photo at right shows a small sampling of those kept on the BRVRR as opposed to those on his small DC layout at home. There are 0-4-0s, 0-6-0s, 2-6-2 and even the 4-8-4 shown above . They come from several manufacturers, but all of them run quite often on the layout. You haven't lived until you have seen an 8-car freight, double headed by a pair of snorting 0-4-0s! It's harmless fun and the kid really enjoys them. Eventually, several of the larger locomotives will have DCC decoders installed for better operation. In the meantime Zachary will enjoy himself and the roster of little steamers will likely grow by one for every train show we attend.
The little 3-truck Shay shown here is a Model Die Casting/Roundhouse undecorated locomotive. I purchased it at the NMRA Division Five Trainfest 2005 show in Kirtland, Ohio. A shay has been on my grandson's 'want list' forever. The price on this one was just too good to pass up. It is a complex little bugger and requires careful handling, but Zachary is thrilled with it. I installed a Bachmann "DCC Equipped" decoder that came in Zachary's Spectrum Norfolk & Western #611, J 4-8-4. The decoder was surprisingly small and equipped with a medium plug. I think it is really a low cost Lenz, but it seems to do the job for now.

Everyone has to have a little fun. I love the "Harry Potter" series of books. When I found the Hogwarts Express train set on sale at a local department store for $25.00, I couldn't resist. This little Bachmann engine runs like a watch. It pulls its two-car train smoothly around the layout and navigates the 18-inch radius track and Snap Switches without problems. Because it is both, red and a steam engine, it is a favorite of the grandson.

Thomas The Tank Engine, SODOR Railways, Engine #1, actually belongs to my grandson, but he resides on the Black River Valley layout. Thomas is a Bachmann locomotive and runs very smoothly. I installed a Digitrax DZ123 decoder in the top of his cab after removing the factory installed circuit board. Small spaces, but it worked out just fine. Thomas pulls his two coaches Annie and Clarabelle around the BRVRR without complaint. He is one of my grandson's favorite engines. Primarily because he is a steam engine.